Applying for Membership
We are currently accepting applications for membership.
Deadline for applications is Tuesday 3 October 2023, 3pm (BST).
For this membership round, we are especially interested to hear from applicants who work in non-academic roles or the arts, humanities and social sciences. Find out more information below about eligibility criteria, the selection process and guidance packs for both applicants and referees.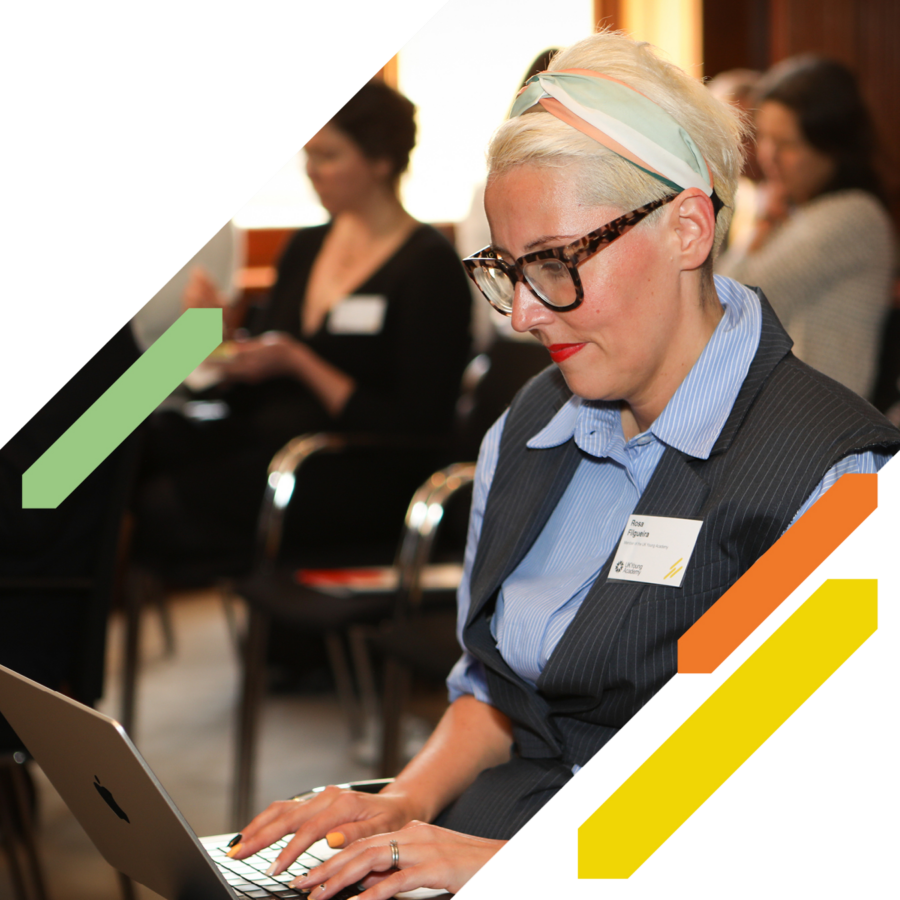 We welcome all applicants
Be part of an organisation with the influence to take part in international dialogues on issues that matter and contribute to positive social change, while furthering your own career prospects at the same time.
Unsure about your eligibility? Join a free introductory webinar at 12noon on Thursday 20 July to find out more about applying.
The eligibility criteria for membership
There are four requirements for membership, however we would encourage you to apply, even if you think you might not fit all the eligibility criteria. If you see yourself as early-career and are passionate about our aims, we want to hear from you. You can also get in touch with us if you are unsure about whether you are eligible.
Slider item number

1

/

4
You'll be in the early stages of a professional career
We are looking for innovative and proactive individuals in all key sectors of society. While not an exhaustive list, these might include entrepreneurs, researchers in academia or industry, engineers, professionals in the arts and creative industries, lawyers, teachers, clinicians, along with individuals working in new and emerging fields.
Slider item number

2

/

4
You'll have approximately 3-12 years' experience in your field
Those eligible to apply will be in the early stages of their careers. Members will typically have at least three to twelve years of experience post-qualification or working in their profession. However this is just a guide and anyone who has demonstrated excellence and leadership in their field will be considered.
Slider item number

3

/

4
You'll have a track record of excellence
Members will be selected for their career excellence. Perhaps you've made a significant contribution to your field, won awards, or led a team to deliver an important new project. Your commitment and possible contribution to the UK Young Academy will also be important.
Slider item number

4

/

4
You must reside in the UK
Members will be selected from anywhere in the UK and from all backgrounds. Applicants will typically be UK citizens or live in the UK when you apply for membership, unless you have exceptional circumstances.
Applicants who are UK citizens but currently based overseas are eligible to apply. However, you should consider whether you can properly commit to the Young Academy and its activities, and aim to demonstrate this throughout your application.
FAQs
Applications for membership are reviewed by a selection commitee, which comprises members from the UK Young Academy and individuals selected by the seven partner academies covering different areas of knowledge, expertise and geography. Applications are considered using the selection criteria given below.
Timeline for the 2023 selection process:
3 October: Deadline for applications
10 October: Deadline for referees to submit supporting statements
October 2023 – February 2024: Review of applications by the selection committee
Spring 2024: Applicants will be contacted about application outcome
All membership decisions from the selection committee are final.
The application form consists of three main sections that cover an applicant's:
Career history (Section 1 and throughout application, 50% of score). Reviewers are looking for demonstrated excellence in career and professional achievement. This is viewed as a threshold criterion for membership.
Personal statement (Section 2, 25% of score). Applicants will need to demonstrate evidence or capacity for leadership, and involvement or enthusiasm for innovation and entrepreneurial activity; interdisciplinary working and participation in international collaboration.
Vision and commitment to the UK Young Academy (Section 3, 25% of score). This section looks for demonstrated evidence of flair for innovative and creative thinking, interest in both global and national professional and societal policy issues; international collaboration and demonstrable commitment to UK Young Academy activity, which could be support from your organisation to take part in Young Academy activities.
Applications are scored by the selection committee according to their strengths in these areas, together with other relevant skills and experience you might have.
Although we are a "young" academy, our members range from their mid-20s to their mid-40s. However this is just a guideline, and if you are early in your career and meet the selection criteria, you will be considered, regardless of age.
While our members might be youthful and early in their careers, we are not a youth organisation. Our name is intended to align us with the global Young Academy movement and to collaborate as part of this international network is a key reason for establishing the UK Young Academy.
We appreciate that career paths can take many twists and turns. When reviewing applicants' eligibility, documented career breaks (including parental leave, adoptive leave or extended sick leave) will be taken into consideration.
Membership is for five years. We encourage members to put in as much time as they feel they are able to, and are looking for individuals who will actively contribute to the UK Young Academy's activities and work programmes.
There will be optional leadership opportunities available to members which may require additional time commitment.
Applications for membership of the UK Young Academy are open to any individual in their early to mid-career stage regardless of the sector you work in; from the arts to the sciences, business to sport. Even if your field of expertise falls outside any of those mentioned elsewhere on this website, your contribution could still be vital, and we encourage you to apply.
Yes, absolutely. If you are already a member of another Young Academy you can also apply for membership at the UK Young Academy, providing you are able to meet your commitment responsibilities and are eligible.
Similarly with research fellowships, membership to other early-career networks or forums, and equivalent schemes in the professional sectors. There are no restrictions on also applying for UK Young Academy membership, providing you are still able to commit the minimum time requirements to our work programmes and activities.
Guidance and downloads
A pack for applicants containing a word document version of the application form and supporting guidance notes to accompany the application form, including top tips for producing good video content.
A pack for referees containing a word document version of the referee form and supporting notes giving background information and information on how to fill out your supporting statement.
Our news in your inbox
Stay up to date on the latest UK Young Academy news and activities.